Name
Erran Perierat
Nickname/Alias
Marionette
Age
18
Gender
Female
Trainer Type
Hunter
Birthplace
Nimbasa City, Unova
~X~Physical Information~X~
Looks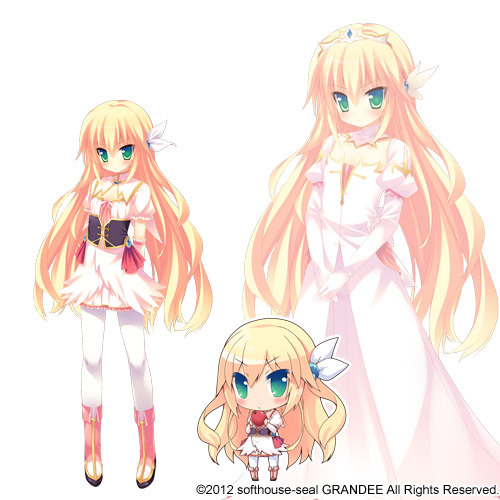 Height
5'6"

Weight
110 lbs.

Common Attire
Marionette always wears complicated dresses, due to her natural upbringing in them. She's almost never seen in any sort of pants or t-shirts. Her most "casual" wear would be a dress shirt and skirt, and even they are rare and few. Her clothes are always kept in pristine condition. Though she doesn't care much for looks, she will gravitate toward fancier, more fitting dresses. She often accessorizes, and typically uses some sort of ribbon for her hair and may also wear a headband, tiara, etc. depending on her outfit.
Formal Wear
Because her common attire is almost always fancy enough, she doesn't change much for formal settings. At best, she'll wear her more expensive dresses, though usually what she wore that day is enough to satisfy the dress code.
~X~Personality and Traits~X~
Personality
Marionette is very distrusting of strangers, and usually keeps a loner-type personality. She'll avoid social situations whenever she can, and doesn't mind being alone. She almost never comes to allow herself to get to know anyone unfamiliar, and will purposefully remain detached and unsocial, and very distrusting. That being said, if someone manages to burrow their way into her heart through true or deceptive means, she will remain fiercely loyal toward them and do whatever they ask of her, somewhat leading to her 'Marionette' namesake. Because of her purposeful lack of personal connection, she often retains a sarcastic and joking tone, not wanting to take or be taken seriously by people. Buried deep within her non-serious shell, Marionette does have her sweet moments. She'll help anyone in dire need of it, and doesn't mind lending out her adamant determination to aid people that need her aid. For a proper definition, Marionette is somewhat of an anti-hero, she helps people, but also looks out for herself and her own means and not looking for any recognition for her good deeds.
With a photographic memory, Marionette hasn't forgotten anything that happened beyond the age of 10. Because of this, she's quite well-learned and can summon up many snippets of information at her whim. She's also quite good at maintaining grudges if she chooses, and remembering faces. A great memory doesn't help her need for social isolation. Because she doesn't want to get too attached to anyone, she never calls people by their names, but rather creates a nickname for them, of she does have to stick around for a while. Even though she's never forgotten a name or the face that goes with it, she still prefers nicknames. She is also quite self conscious, and often mulls over her own actions when she's alone and able to do so, regretting almost every singe one and asking herself "why didn't I do this instead?" She's lonely, and even though she purposefully makes herself so, she regrets it every day. Just like a puppet, she puts on a happy face every day, hiding the fact that she's hollow inside.
Marionette has a deep love for rare Pokemon, and devotes her time and effort into hunting them. She has a distinct preference for shiny Pokemon, though any Dark, Light, or Delta Species will also catch her attention. She won't deny a home to any Pokemon that needs it, however, and feels pity toward Pokemon that seem just as lonely as she. She trusts Pokemon much more than she does people, for past experience has taught her that, when it comes down to it, a Pokemon will selflessly risk its life for a stranger, while most people wouldn't for their own family. She will emotionally bond with her Pokemon, and names them to help maintain a personal connection.
Strengths
~
Determination
Once Marionette has a goal, she'll stick with it until the end. She'll go through all means necessary to get whatever it is done, and will use all resources available. This greatly helps her Hunter path.
~
Photographic Memory
Marionette remembers everything she's experienced from the age of 10, making her very useful in many ways.
~
Well-Learned
She is also very well learned, and able to recall an abundance of information to assist her ventures.
~
Kindhearted
She truly does care for others, especially those in great need of help. She by no means would make friends with them easily, but she'd assist them at the time. She has quite a caring nature, even if her words don't show it.
Weaknesses
~
Loneliness
Being a loner does take an emotional toll. She pushes everyone away, and remains distrustful of strangers. This makes her, for the most part, alone in the world due to her own actions.
~
Photographic Memory
Her memory is both a blessing and a curse. There are things in her life she'd rather forget, and like everything, she remembers each and every one in clear detail. Unlike those around her, she can't push the thoughts back. Often, she has nightmares about the things she'd give anything to forget.
~
Detached
Marionette makes no outward effort to bond with others, and will purposefully go out of her way to not bond with them. This makes creating connections and friends a very difficult task, so she has almost no one in the world besides herself to turn to.
~
Sarcasm
Sarcastic is her main trait, and she's not afraid of being blunt. Of course, this doesn't really help socially, as most people aren't too fond of it.
~
Puppet
Those that manage to get close to Marionette can count on her to do everything they tell her to. She'll blindly trust and obey anyone who can pull the right strings, so to speak, and she's often unaware of the intentions of those pulling them.
Striving Goal
Marionette wants to be successful in her quest of hunting and collecting rare Pokemon. She's particularly fond of Shinies, and aims to gather and train quite a team of them. She wouldn't mind becoming Champion one day, either, but hunting and capturing rare Pokemon is what truly and fully drives her.
Greatest Fear
Marionette, above all else, fears regret. She always wonders what she could do differently within the day, and it has taken a toll over time. She's used to being used by others for their own gains, and accepts that it has and will continue to occur, but regret wreaks havoc in her mind. She fears that, when she dies, she wouldn't like anything she's done with her life, and regret her entire path. It's inevitable to her, and that makes all the greater of fears.
The Crafting of a Puppet:
A New Path: